I can't believe I completely forgot to blog about my St. Patrick's Day kit! Doh! Well, here it is a little late, but still really cheap! This is part of a series of kits I'm working on that all coordinate called "Soft Pastels".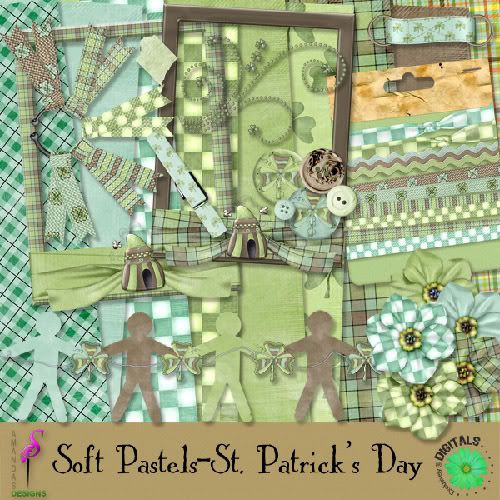 Enjoy the soft delicate textures of the Soft Pastel series as you mix and match these perfectly coordinated designs.
Soft Pastels: St. Patrick's Day
is filled with the colors of the Irish--green, brown, and teal. Shamrocks, plaid, checkerboard will adorn your pages and bring your layouts to life. The Soft Pastel Series features the clip art of Trina Clark.
Included in kit:
9 softly textured 300 ppi 12x12 backgrounds
2 ribbon-wrapped frames
5 fabric flowers
5 buttons
1 tied ribbon key ring
1 buckle
1 paper chain
6 ribbons
2 tied ribbons
3 ric rac
1 swirl
1 clothespin
1 piece of tape